What is a profiling bed? The ultimate guide
15 March 2023
Profiling beds offer care home residents the ability to get a good night's sleep even if they have a condition that makes finding a comfortable position difficult.
What is a profiling bed? The ultimate guide
Profiling beds offer care home residents the ability to get a good night's sleep even if they have a condition that makes finding a comfortable position difficult.
They also help carers properly care for residents by making it easier to turn them or help them get into and out of bed.
Created by the healthcare experts at Wippet, this article answers your top questions about profiling beds for care homes.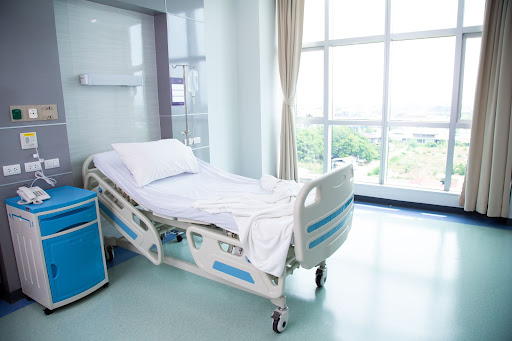 What is a profiling bed?
A profiling bed is a section and height-adjustable bed that enables caregivers to quickly elevate or lower particular areas of the mattress to improve the user's comfort.
Raising the head, for example, keeps the user upright and allows them to engage in activities such as socialising and eating.
Raising only one foot promotes blood circulation, cleaning, and turning the user to ensure correct pressure control.
Profiling care beds are used in all nursing care settings and are particularly useful for long term bed-bound residents. They strike the ideal balance between the user's comfort, the practicality of their medical condition and are excellent for managing pressure care.
They are usually marketed in pairs, as singles, with or without specific profile mattresses, and are available in two configurations: manual and electric.
How do profiling beds help residents?
Profiling beds offer users the following benefits over typical residential beds.
Increased comfort
The most crucial reason residents use a profiling bed is the increased comfort they offer.
With a profiling bed, up to four independent sections can raise or lower to hold the resident in a comfortable position that relieves pressure and pain so they may rest, relax or sleep.
Residents can further reduce the pressure they experience by using a pressure mattress on top of the profiling bed. This is a particular type of mattress that distributes pressure across a wider area of the body to keep the user more comfortable.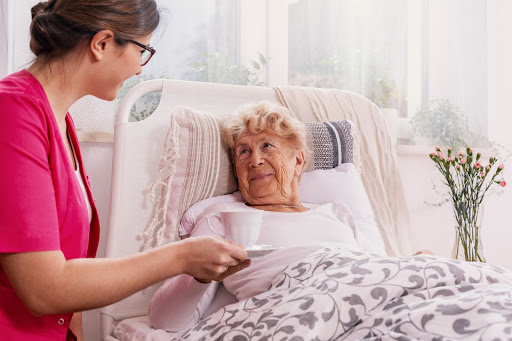 Improved health & recovery
Profiling beds directly aid in the battle against skin problems and potential infections by lowering the risk of pressure sores.
This benefits the individual receiving care because they are in less pain, but it also helps to minimise the caregiver's workload when it comes to treatment.
Safety features
Profiling beds come with many optional additional safety features.
Bed rails for profiling beds are an optional extra that helps prevent the user from the risk of falling out of bed, which is especially important for senior persons in nursing homes. And for those that need more access at the head and foot of the bed, side rails prevent users from rolling out of the bed.
Furthermore, they have a stronger frame than a regular bed and are thus less likely to shatter under excessive weight.
Bariatric profiling beds are designed specifically for heavy users and come in various styles.
Improved autonomy
Giving your residents personal autonomy dramatically improves their quality of life and thus mental and physical health.
Profiling beds that can raise or lower make it much easier for care home residents to get into and out of their beds without assistance.
This has a knock-on effect of giving them more independence, choice and control over their lives because they can do things for themselves without waiting for a carer to be free.
Furthermore, it helps to keep them more physically active more of the time by being able to come and go whenever they please.
This boosts their confidence that they can do things for themselves and makes them more likely to keep themselves moving and occupied - all daily rituals that make for a happier and healthier life.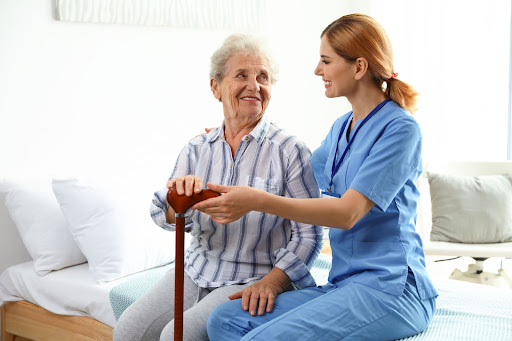 Accessibility for different conditions
There are many profiling beds made for different circumstances and conditions, which means there's likely one suitable for all resident needs.
For example, an electric high-low bed that can raise and lower to the ground will suit a wheelchair user who has just enough mobility to move between their chair and a bed.
In contrast, a non-electric profiling bed with side padding may be more suitable for a resident with dementia who may move around in bed and need the added protection from injury.
Helps staff to provide better care
Profiling beds benefits both care personnel and clients in care.
Handling patients on and around their beds causes one-third of all musculoskeletal injuries to nurses, which is an astoundingly high figure.
Profiling beds help to lessen staff pressure by making it easier for the bed-user to get in and out of bed and by supporting their movement with electrical controls.
This allows caregivers to administer treatments such as injections or lotions to patients without physically moving them.
What is a manual profiling bed?
A manual profiling bed can move up to four portions of the bed independently to keep the user in the proper posture.
These bed pieces must be moved manually by the caregiver, who frequently employs locks and levers to move them into the proper positions.
Pros of manual profiling beds:
Cheaper than electric
Take up less space
Can feel more homely
Don't need to be near a source of power
Cons of manual profiling beds:
Not as easy or quick to set up
Don't give the resident such a great experience
Can provide the patient less dignity
The Carer 4 section bed is an excellent example of a manual profiling bed. With squared head and foot ends and a visible contrasting edge on each end, this design is appropriate for dementia residents. Furthermore, the bed has vinyl wrapped ends that give a water and odour proof cleanable surface.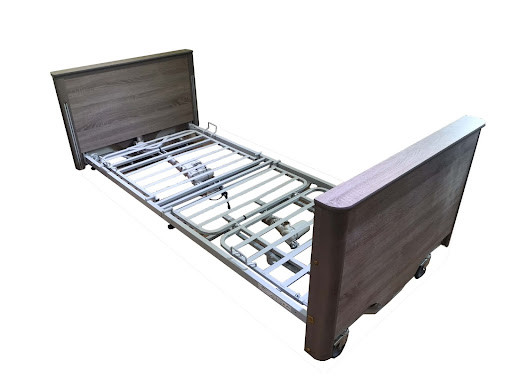 What is an electric profiling bed?
An electric profiling bed, on the other hand, an electric profiling bed has all of the same parts as a manual profiling bed, but they are electrically controlled.
The caregiver can adjust the bed to the correct position by pressing a button on a remote or control panel attached to the bed.
Pros of manual profiling beds:
Much easier to use than manual beds
Reduces risk of injury to the bed occupant and carer
Particularly easy to use for carers who lack strength
More dignified for the resident
Allows the carer to tweak the exact positioning of each section
Cons of manual profiling beds:
More expensive than manual beds
May feel less homely
Need to be near a source of power
The Hanley Accent 4 section is an excellent example of an electric bed. This bed has four independently changeable electric parts to help you find a comfortable position for the user. Furthermore, the bed comes with a two-year manufacturer warranty.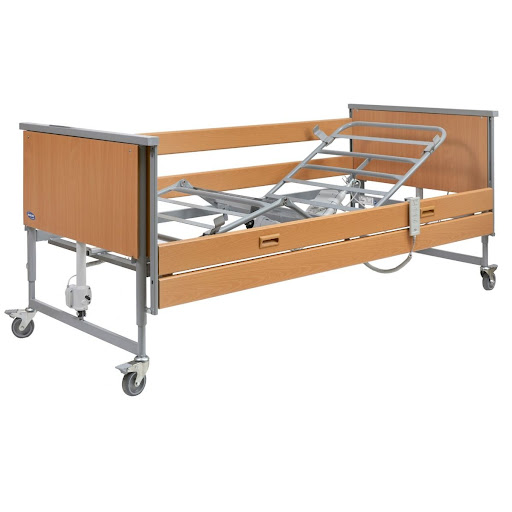 Is a profiling bed a hospital bed?
Profiling beds are sometimes called 'hospital profiling beds' because they are most often found in healthcare settings. While profiling beds are usually made for clinical purposes with easy wipe clean surfaces, others are designed to have all the same functions but suit a residential or care home setting.
What is an electronic profiling bed?
Electric profiling beds include a mattress platform divided into two to four parts that can independently move to create a range of sleeping positions. They are electrically powered and controlled by a control panel on the bed or remote control, either the user or a carer.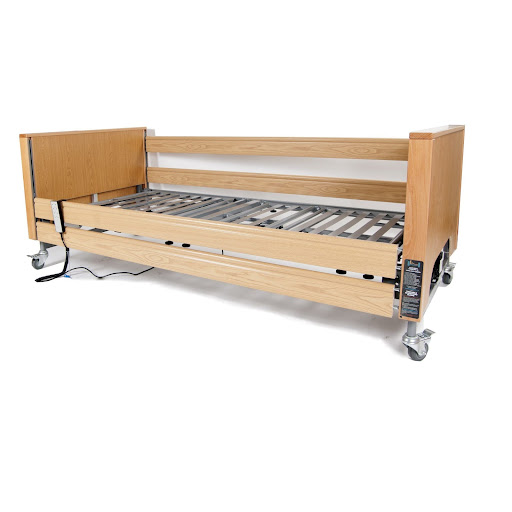 Why are profiling beds used?
Profiling beds are most often used in the healthcare sector to help people remain comfortable while sleeping. People with mobility problems, dementia, breathing issues or nerve damage may need to be held in a specific position to aid comfort, so profiling beds help them do this.
How high should a profiling bed be for the elderly?
To help an elderly resident get in and out of bed, a high-low profiling bed should be set at between 18"-23", which is roughly the height of a chair. Then, once the resident is in bed, the bed can be raised to whichever height the resident requires.
Where to purchase a profiling bed
Visit Wippet, the UK's healthcare marketplace, when looking for a new profiling bed for your care home.
Wippet offers a range of profiling beds and mattresses made by several of the UK's most trusted manufacturers, such as Renray Healthcare, Bayliss Mobility and The Care Shop, so you can be sure our beds are suitable for residents in your care.